180 Days Of Household Happenings (Infographic)
TotalProtect Repairs Give You Peace of Mind for Six Months
A lot can happen in a home in the span of 180 days. One thing that shouldn't happen is a second breakdown of the appliance that was repaired less than six months ago. Good repair work should last more than half a year, so why should you pay for the same thing twice?
At TotalProtect®, we stand behind our service men and women with an industry-leading 180-Day Workmanship Guarantee. That means that if your recently repaired home system or appliance breaks down again, we'll send someone to fix it at no extra charge. Considering how much your appliances can achieve in that time, you and your family will be glad to have the extra support.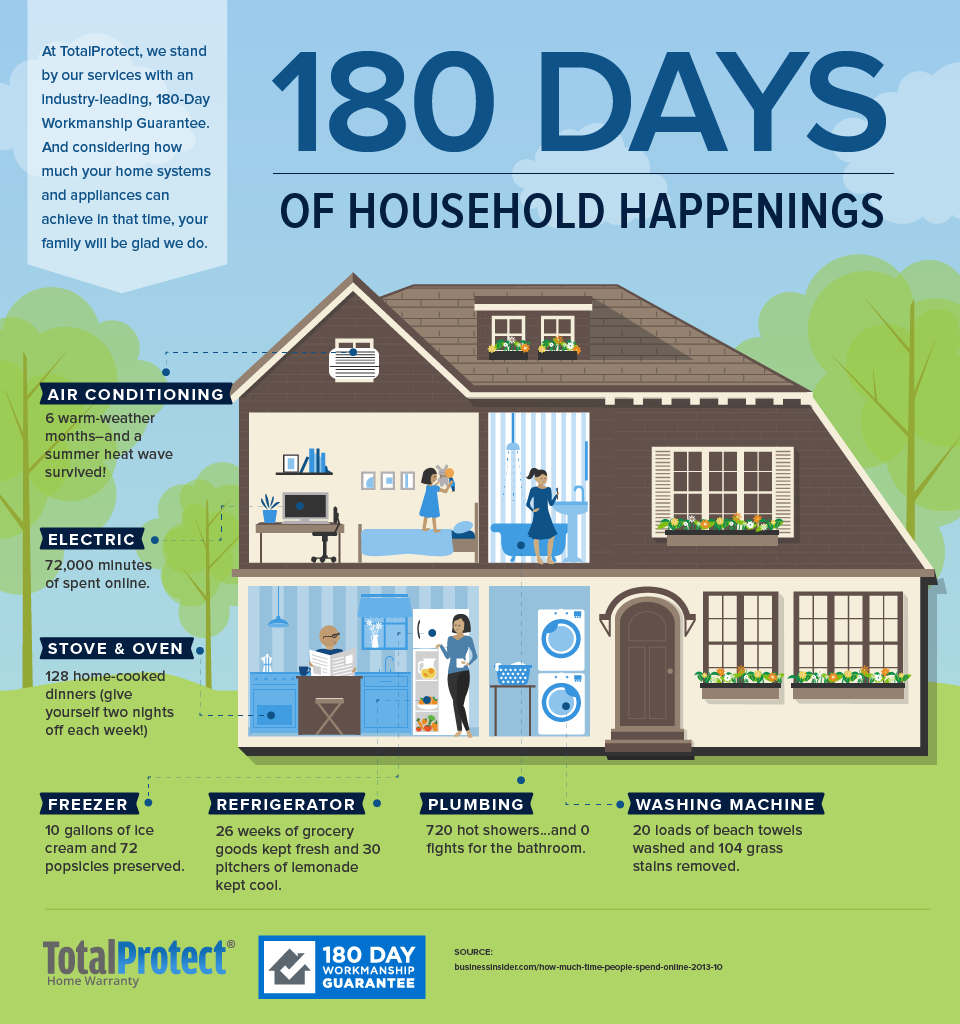 Air conditioning
Your air conditioning system works hard to help you get through the hot summer months. A broken A/C at the wrong time during the summer can be the difference between relaxing indoors with a refreshing beverage and baking in front of a fan.
Electric systems
The average household spends 72,000 minutes online over the course of 180 days. That's not to mention all of the time spent watching movies and television, charging mobile devices and reading late into the night. Almost everything we rely on uses electricity to function, making a working electric system a modern necessity.
Stove and oven
Giving yourself two nights off every week to order in or eat out, you use your oven to cook 128 dinners in 180 days. That's not even mentioning lunch and the most important meal of the day - breakfast.
Freezer
The average American eats about 24 pints of ice cream in 180 days - that's a lot to keep cool! Add in frozen meats and instant snacks, and it's easy to see why it's so important to keep this appliance running all year round.
Refrigerator
Over the course of six months, your refrigerator keeps a full 26 weeks of grocery goods fresh and ready to eat. That includes a relaxing glass of ice cold lemonade on a hot summer night.
Plumbing
With your plumbing system in good working order, you'll have access to a hot shower all summer long. For a family of four, that's 720 showers and zero fights for who gets the bathroom first.
Washing machine
The washing machine is the American family's best friend during the summer. Think about all of those summer loads of beach towels and grass stains - you need this appliance to keep running.
If you haven't already, it's time to invest in a TotalProtect Home Warranty.
The information in this article is intended to provide guidance on the proper maintenance and care of systems and appliances in the home. Not all of the topics mentioned are covered by our home warranty or maintenance plans. Please review your home warranty contract carefully to understand your coverage.