About Us

What Makes TotalProtect Different
TotalProtect Home Warranty plans are built around serving you. But it's more than just covering repairs and replacements for home appliances and systems. We're committed to providing you the right services and the right people at the right times. Below are a few things we do to make sure our home warranty is about serving you.
Predictable, Honest Coverage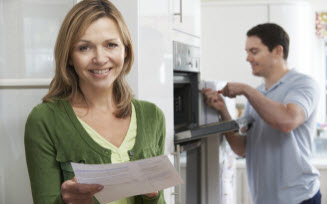 You should know exactly what to expect from your home warranty plan. Our goal is to eliminate any surprises or confusion about what is and isn't covered by being as open and accessible as possible. If you're shopping for a plan, you can take a look at a sample home service agreement anytime and call us with any questions.
Once you're our customer, we will:
Never change your coverage without giving you advance notice of your options.
Never use deceptive practices to try to deny your claim.
Always be available (and glad!) to discuss your coverage details.
The monthly cost and the [deductible] is much better than paying the total cost of the damage.
J.R., Bridgeport, CT
To us, a home warranty is a relationship, and like any relationship, communication is essential. You can count on us to do our part.
24/7/365 Service Line
Whether your washer floods at midnight or a question about your coverage pops into your head during lunch, you can reach our customer service representatives in Florida or South Carolina at any time. And we mean that. They're ready to talk to you 24 hours a day, seven days a week, every week of the year. You'll never have to wait until Monday or check our hours. We're not in the business of being your home warranty provider sometimes. We're there for you all the time.
The TotalProtect Service Provider Network
When we send a local service provider to make repairs in your home, you can be assured that we've done our homework.
The more than 40,000 service providers in our network are:
Pre-screened for licensing and insurance as required by their respective states.
Regularly monitored and evaluated for their performance. We have dedicated Service Network Managers who check in regularly with providers to review customer feedback and help them improve.
Graded through our Dynamic Vendor RatingSM system, which rewards providers for quality work. It's our way of making sure our commitment to serving our customers extends to our service providers.
Backed by our 180-Day Workmanship Guarantee on covered repairs.