Are you prepared for home appliance breakdowns?
Properly maintaining your home appliances is fundamental to increasing their lifespans and efficiency. However, even if you're regularly checking on and cleaning your systems, breakdowns as a result of wear and tear are bound to happen.
It's important that you know what to do when your appliances fail. Here are three questions you may be asking yourself as you work to maintain your home systems:
How long are appliances built to last?
According to Daily Finance, recent statistics show that most major home appliances are built to last 10-13 years, as long as they're properly maintained. This includes systems like your washing machine, dryer, dishwasher and refrigerator. However, their shelf lives may be at least 10 years, but this doesn't mean they won't need a repair now and then.
How often do appliances usually break down?
Did you know that most home appliances will break down from wear and tear just three to four years after you purchase them? Statistics reveal that side-by-side fridge and ice makers have a 36 percent chance of malfunctioning within this time frame. Meanwhile, front-loading washing machines have a 26 percent chance and dishwashers have a 20 percent chance.
What do you do when your appliance breaks?
Aside from the hundreds of dollars that often go into fixing or replacing a home appliance, a large part of the hassle people face when their system breaks down is finding a reliable repairman to handle the problem. With a TotalProtect home warranty, you can save both time and money. For a low monthly fee, you're able to request one of our experienced technicians to repair or replace your covered appliance without the hefty standard service fee you'd be charged without a warranty.
Want to learn more about our flexible coverage plans and budget-friendly payment options? Call us today or visit our website!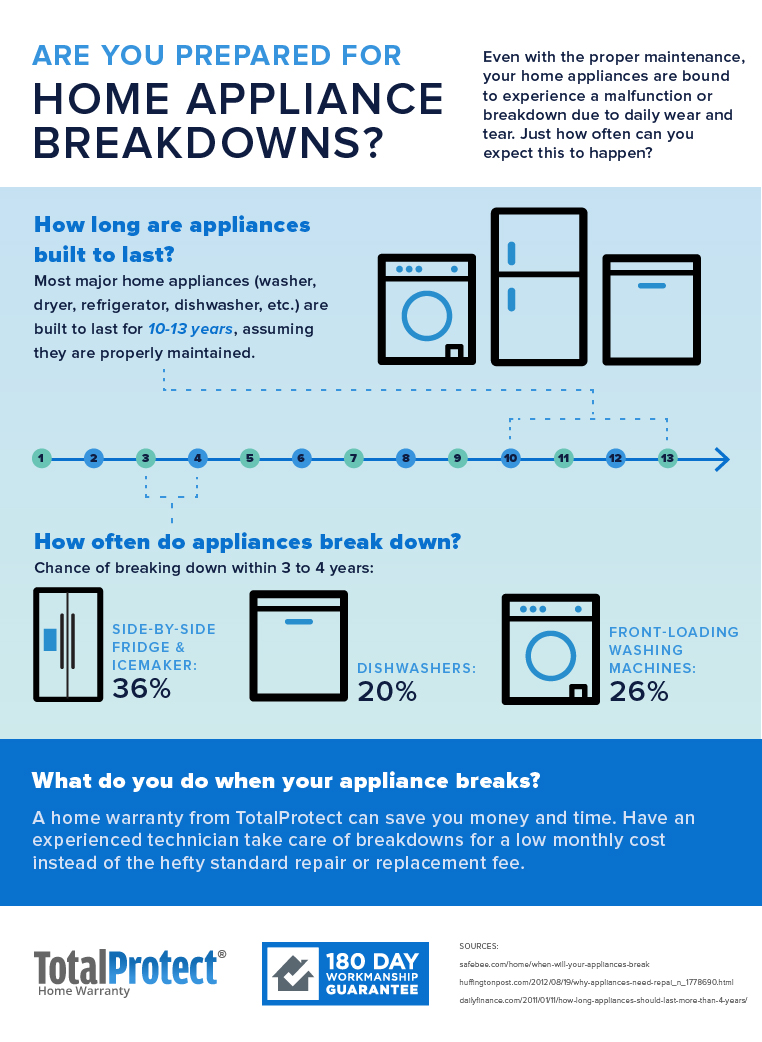 ---
The information in this article is intended to provide guidance on the proper maintenance and care of systems and appliances in the home. Not all of the topics mentioned are covered by our home warranty or maintenance plans. Please review your home warranty contract carefully to understand your coverage.