Budget Friendly Home Maintenance: Protecting Your Home And Wallet
Home care on a budget is easier than you think. It comes down to a few organizational skills and common-sense tips. Here are a few suggestions to save tim and prevent unpleasant surprises and stress.
Keep all home repair manuals and appliance manuals together, within easy reach
Minor tasks are more tedious when you have to conduct a search expedition to find the manual! The manual typically contains recommended maintenance schedules so you don't have to guess at what's needed; troubleshooting tips that could save you hours of wasted time trying to diagnose a problem; all the part numbers, should you need to replace a component; and manufacturer contact information, if you have any questions.
Find a box or a very large legal folder that can hold multiple booklets and label it "Product Manuals". Keep it with other important papers in an easy-to-reach place. (In other words, not a hidden corner of your attic or garage!)

Every time you buy an appliance, write its serial number on the manual's inside cover and file it. Do it the moment you get home! Put it off and you're likely to misplace the manual. Also, many serial numbers are imprinted only on bottom or back, making them much tougher to access once that oven or dishwasher is bolted in place.
Follow maintenance schedules closely
Cheap home repairs usually address smaller fixes, like a slow-draining sink or tiny hole in a washer hose. Once main plumbing lines clog or hoses break, cheap home repairs turn into costly disasters and often require professional help. Whether it's changing your lawnmower's oil on schedule or inspecting dryer vents a few times per year, don't ignore the little steps. They can prevent big headaches.
Be realistic: build a home care maintenance budget
We budget for vacations, homes, colleges and retirement; why not put a little away regularly for home repairs, too? You can do a lot to extend lifespans with routine maintenance and gentle usage, but eventually that appliance is going to break. It's good to be prepared, so when appliances do fail, it's not a financial catastrophe.
Budget friendly home repair is much easier with comprehensive TotalProtect coverage
Cheap home repairs are fine for most minor problems, but many complex appliance and home system problems demand the expertise of skilled professionals and can easily total hundreds or thousands of dollars. Your low-cost TotalProtect plan covers you against these expenses. So even when minor problems escalate into major issues, your budget is protected. One call to us and we'll take care of everything, for a low service call fee.* See available plans and get a free quote!
Total Protect Home Warranty Twitter page
Total Protect Home Warranty Facebook page
Total Protect Home Warranty Google+ page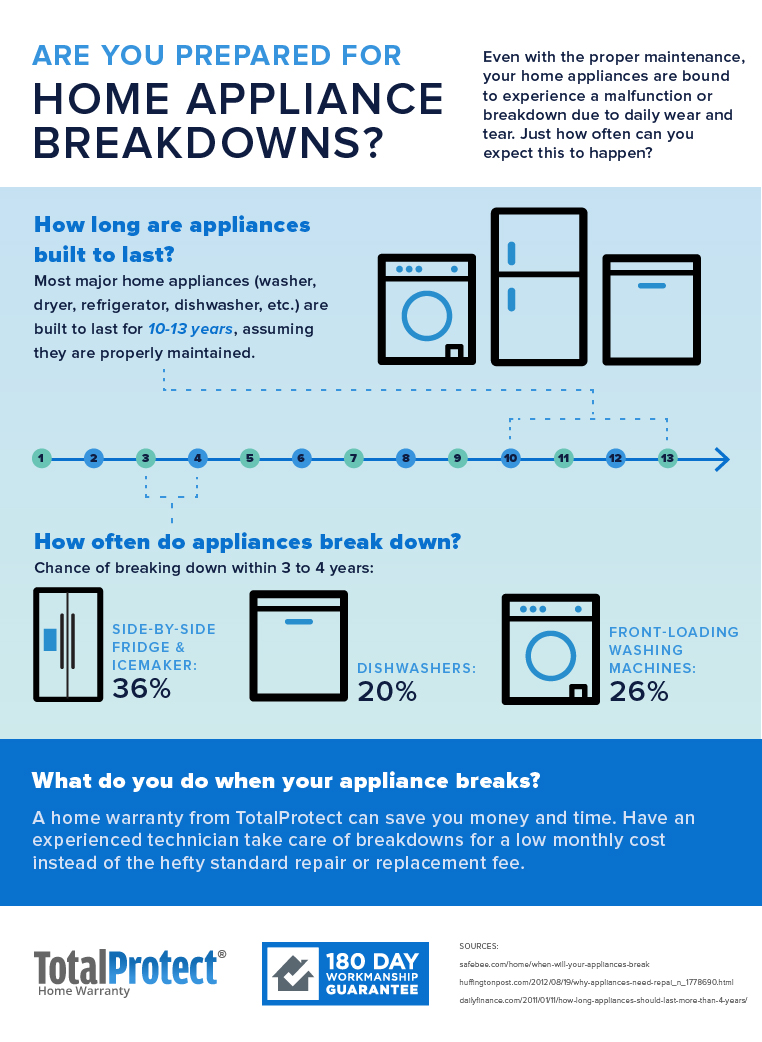 ---
The information in this article is intended to provide guidance on the proper maintenance and care of systems and appliances in the home. Not all of the topics mentioned are covered by our home warranty or maintenance plans. Please review your home warranty contract carefully to understand your coverage.