Common Home Appliance Maintenance Tips: 10 Ways To Help Extend Appliance Life
Most of us rarely give our hard-working appliances much thought once we've bought them, but we can do a lot to extend their operating life. Our TotalProtect® Home Warranty maintenance experts offer a few common home appliance maintenance suggestions, along with additional tips from Lowe's appliance experts, to help you get the longest service possible.
Kitchen Appliance Maintenance Tips

Make sure you run your dishwasher at least once every couple of weeks, if you

hand-wash dishes frequently. This keeps the seals from drying out and the machine in better working condition.

Help your dishwasher's pump work more efficiently. Most dishwashers transfer used wash water into the sink disposal. Lowe's suggests you run your disposal a few seconds before starting the dishwasher. This clears it out and helps keep drain tube clear of debris.




Garbage disposals are meant for very tiny food bits only. Do not toss bones, eggshells, or even soft pasta or rice, which expands in water and can clog pipes.




Refrigerators run better and use less energy when condenser coils are kept clean. Make sure you unplug the appliance first, and then use either a vacuum or a damp cloth to remove dust and dirt.




I

nspect cords and plugs at least once every month or two on appliances like microwaves, toaster ovens, coffee pots, grills or fryers. It only takes a second and could prevent a dangerous fire hazard.

If you have an older oven, keep an eye on the condition of the door gasket. Lowe's reminds homeowners that gaskets can tear or stretch after years of heavy usage, allowing heat to escape.




Have a gas oven? To avoid burner clogs, Lowe's recommends you clean burner ports from time to time, using a straight pin. Don't use toothpicks, as they can enlarge or distort the ports.
Laundry Room Appliance Maintenance Tips
Check your washing machine's water supply hoses at least once each year and replace as needed. Lowe's also suggests leaving the lid open between uses, as even small amounts of stagnant water can lead to mildew and odors over time.

Check regularly around the washing machine for any puddles or dampness. Even a tiny, pin-sized leak now can quickly lead to major water damage later.

Check and clean lint traps on the dryer and near the filter area. Lowe's recommends disconnecting your dryer, then using a vacuum hose or vent brush to clear lint from exhaust pipe every three to six months.

One of the best home appliance maintenance tips?
We visit your home, inspecting a total of 103 items throughout the year to ensure all systems and appliances are working at peak performance. If anything malfunctions, we're here 24/7 to take your call and will send a pre-screened technician out as soon as possible.
Total Protect Home Warranty Twitter page
Total Protect Home Warranty Facebook page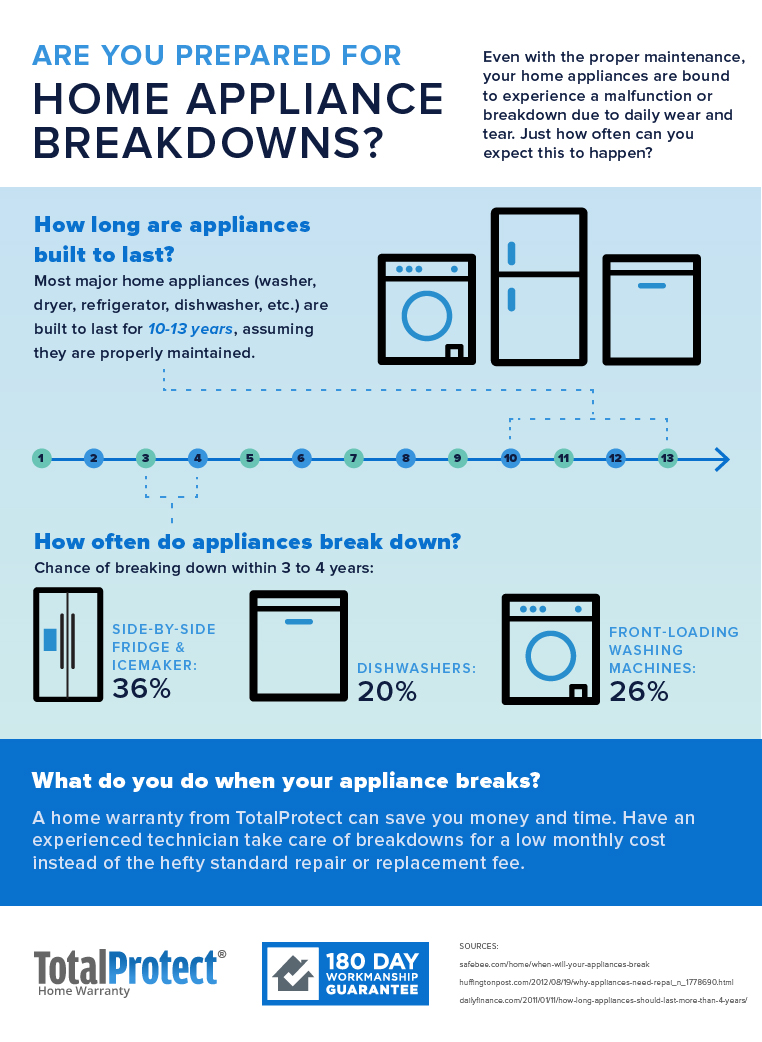 ---
The information in this article is intended to provide guidance on the proper maintenance and care of systems and appliances in the home. Not all of the topics mentioned are covered by our home warranty or maintenance plans. Please review your home warranty contract carefully to understand your coverage.