Don't overlook these 6 early warning signs of appliance troubles
Most homeowners don't notice their appliances are having issues until the units don't work at all. It's always inconvenient to be without your refrigerator or clothes washer, especially if you don't have a TotalProtect® Home Warranty to help get the repair process underway. However, there are often small signs that your home's systems or appliances are struggling if you know where to look. Here are six early warning signs of appliance trouble that smart homeowners should keep an eye out for.
1. Dishes aren't clean
When you run the dishwasher only to find that some dishes aren't as clean as you'd like, you may just chalk it up to caked on or dried food. Most people simply run the cycle again. Not only is this detrimental for your energy bills, you're also overlooking an important warning sign. Good Housekeeping magazine explained that when your dishes aren't coming out of the washer clean, it often means that the appliance isn't getting enough hot water. This could signal a problem with your water heater or that the dishwasher filter needs to be cleaned. If your water takes more than three minutes to get hot, chances are your dishwasher is operating with cold water, which is less effective.
2. Clothes take longer to dry
Certain items like towels and heavy sweaters generally need a little extra time in your clothes dryer, and that's normal. However, if you find yourself running the dryer for longer because regular loads aren't dry, don't just assume it's a fluke. This problem could signify that the appliance has lint buildup that needs to be addressed. When your dryer's filter is clogged, it reduces the airflow and takes longer to dry your clothes. Make sure that you're cleaning the lint filter after every load and giving the trap regular maintenance.
3. Fridge motor keeps running
It's easy to tune out the sound of your refrigerator's motor, but don't ignore it altogether. The Merrick Patch noted that when this motor is running continually, it signals that your fridge is having trouble maintaining a consistent temperature. This is a warning sign that something is amiss, and you should have a service technician diagnose the problem if the sound persists.
4. Electric burners aren't hot
You'll definitely have trouble cooking if the burners on your electric stove aren't getting hot. However, don't just move your pan to a different burner. This could signal that the coil doesn't have a proper connection with the stovetop or that it's simply damaged. Unless you're willing to forgo use of one of your burners, have someone look at the problem and determine if the coil needs to be replaced.
5. Light switches are hot to the touch
Appliances aren't the only products that give off warning signs. There are also a number of tells that your electrical system isn't performing up to par. KJRH News noted that when your light switches or outlets are hot to the touch, it can often signal poor wiring and should be addressed immediately. Issues with your electrical wires can lead to major problems and even house fires, so don't just let this warning sign slip your mind.
6. Gas burners won't light
When a burner on your gas stovetop won't light, it's generally a sign that you've been shirking on cleaning. Food particles can easily collect in the holes on each burner and block the flow of gas. Make sure to keep your stovetop in good shape by cleaning it regularly.
Even if you're aware of these tells, sometimes you'll wake up to a broken appliance or home system. When this happens, it's nice to know that your TotalProtect warranty will cover the costs of repairing or replacing eligible items.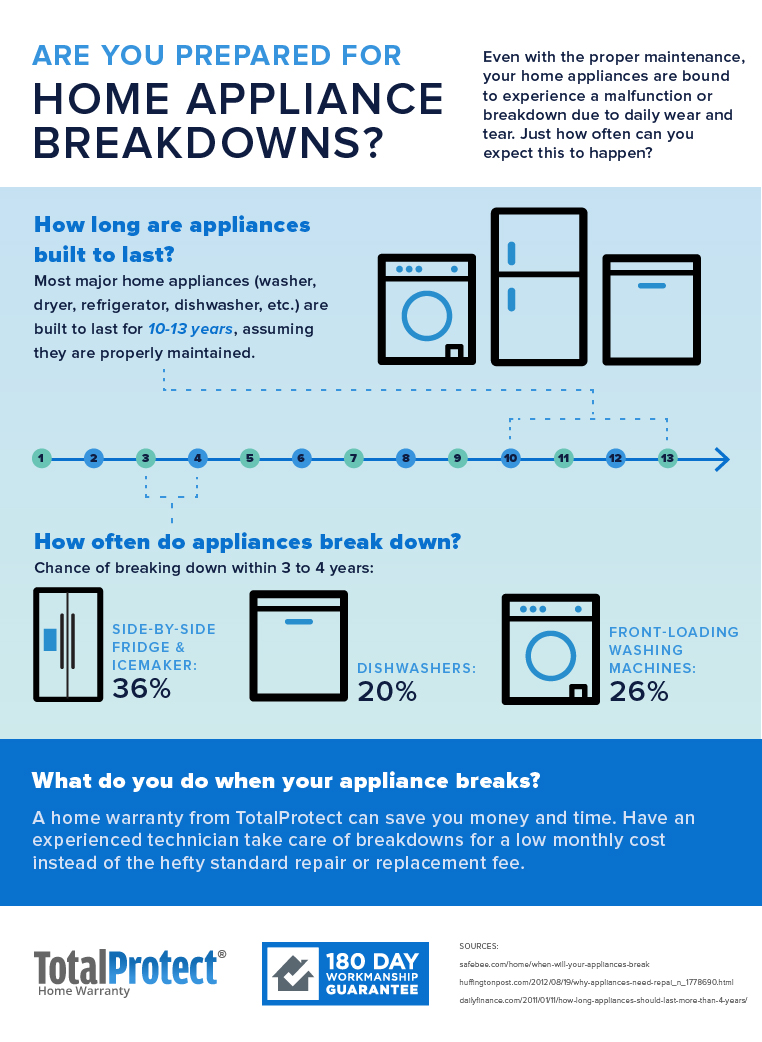 ---
The information in this article is intended to provide guidance on the proper maintenance and care of systems and appliances in the home. Not all of the topics mentioned are covered by our home warranty or maintenance plans. Please review your home warranty contract carefully to understand your coverage.