Use this vacation checklist to prep your appliances
Vacations are supposed to be a time to relax and unwind with your loved ones, so the last thing you want is to come back and find your house in disarray. Unfortunately, this happens to many unsuspecting travelers who don't adequately prepare their homes before vacation.
Don't let this be you! Use this vacation checklist to get your home in tip-top shape before you jet off.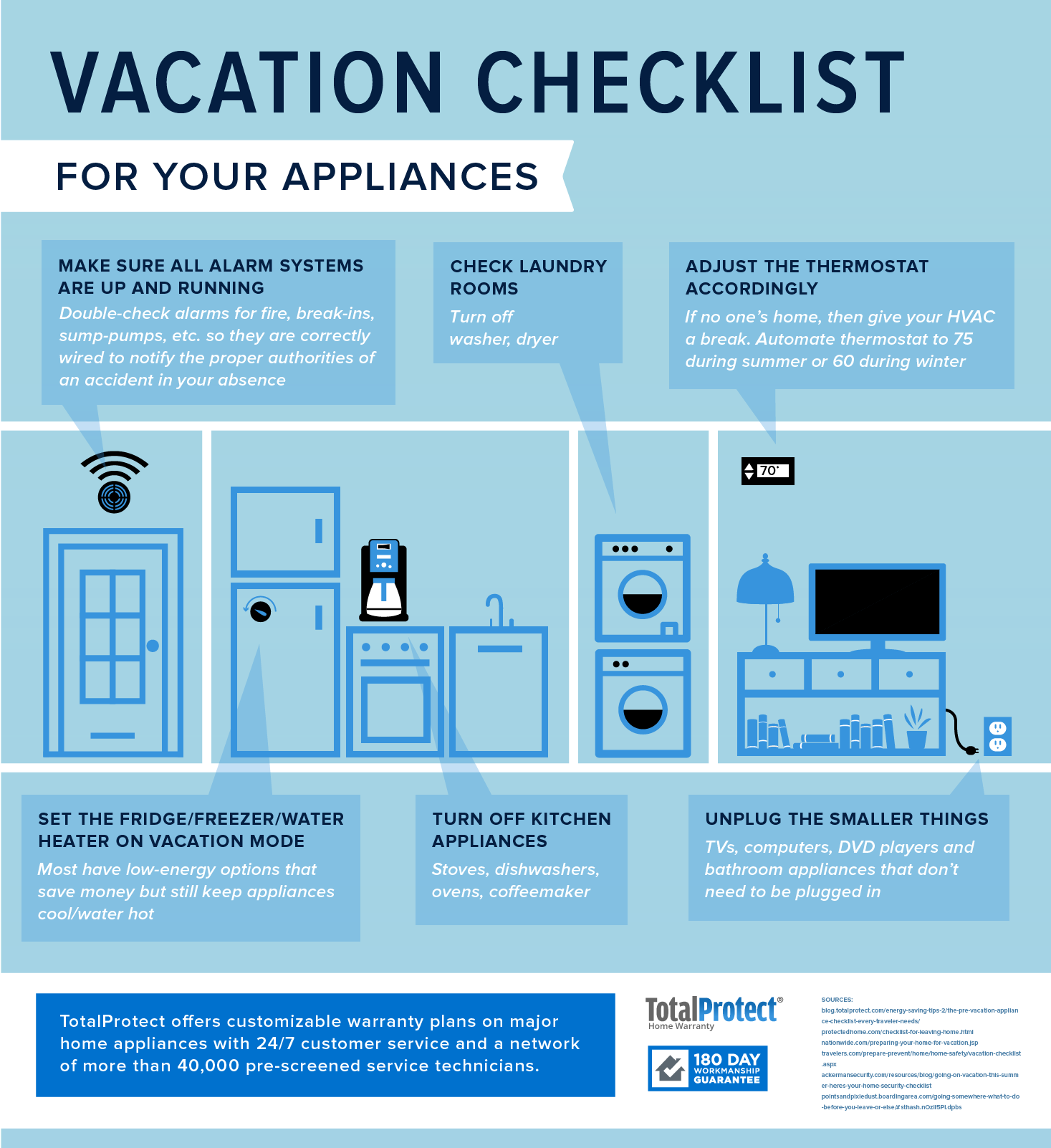 Here's how you can prep your appliances before a long vacation.
Alarm systems
If you're going to leave your house unattended for a few weeks, you should probably have someone to check in and make sure everything is OK. However, you should also ensure that all of your alarms are up and running before you leave. Double-check your smoke and carbon monoxide detectors, home alarm system and sump-pump alarm. These should all be wired to notify the authorities if something happens when you're away.
Appliance prep
Next, you'll want to make the rounds to all your appliances. Start in the kitchen and set your fridge and freezer to vacation mode. This setting uses less energy while still keeping food fresh. You'll also want to switch your water heater to vacation mode. While you're in the kitchen, turn off appliances like the stove, dishwasher, oven and coffeemaker, and unplug the ones you can.
When you pass by the laundry room, turn off your washer and dryer. Then make your way to the family room and unplug small electronics like the TV, computer and gaming consoles. This will help keep your energy bill low and reduce the risk of an electrical fire.
Thermostat
Finally, don't forget to adjust your thermostat before you leave on vacation. After all, there's no need to keep the house cool if no one will be there. Adjust the temperature to 75 degrees during the summer or 60 degrees in the winter. This will give your HVAC system a much-needed break.
If you do return from a getaway to find a broken appliance or system, don't fret. Simply file a claim with your TotalProtect® Home Warranty, and we'll connect you with one of our pre-screened service partners. You'll be able to get your appliance back up and running without breaking your budget.
---
The information in this article is intended to provide guidance on the proper maintenance and care of systems and appliances in the home. Not all of the topics mentioned are covered by our home warranty or maintenance plans. Please review your home warranty contract carefully to understand your coverage.