What Happens When Your Furnace Breaks? (Infographic)
There's a Big Difference When You Have TotalProtect
The middle of a cold winter day is probably the worst time for your furnace to start acting up. Whether you come home from work to a cold house or can't get the heat to kick on while your family is eating dinner, your next thought is likely, "What do I do now?" Your next steps depend wholly on whether you've invested in a TotalProtect warranty as part of your home protection plan.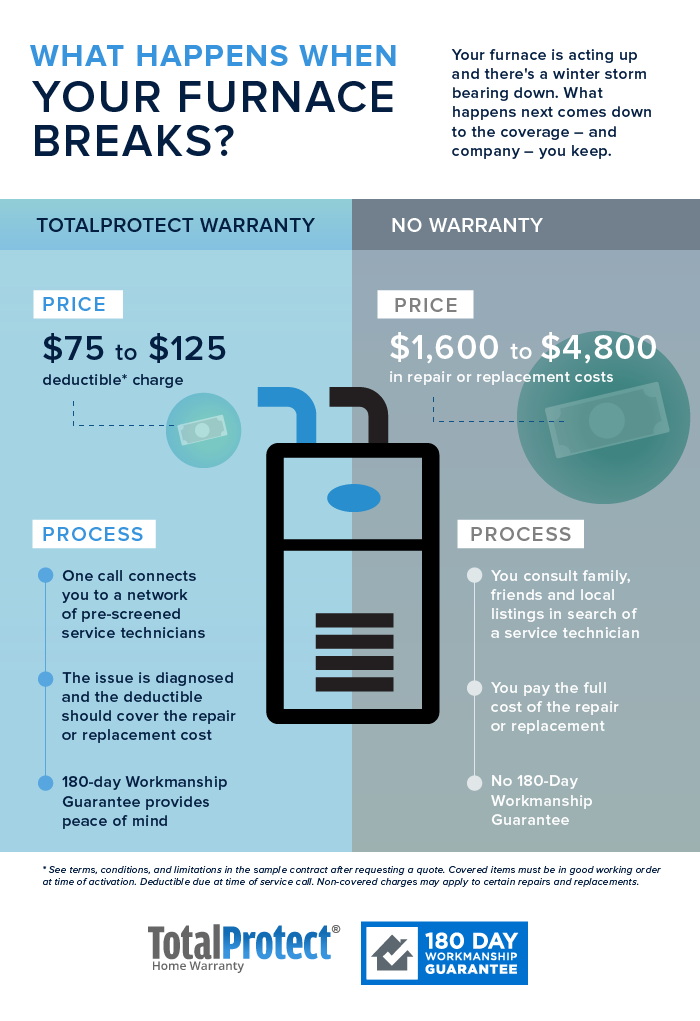 With no home warranty
If you decided not to purchase a home warranty and just budget for repairs, the first thing you need to do when your furnace breaks is find a service technician. This likely means calling up your friends and family members or browsing through local listings to find a business that's open and seems reliable. While you're searching through the phone book, your family will probably start putting on extra layers and bringing out more blankets to fight the chill.
Once you find a repairman who's available, they will come out to your home and assess the problem. Depending on the severity of the issue, you could be looking at a bill between $1,600 and $4,800. You'll be responsible for paying these costs in full, so hopefully you have enough money budgeted for the expensive repairs. Once your furnace is fixed, cross your fingers that the repairs were done correctly so you don't have to pay the technician for a return visit.
With a TotalProtect Home Warranty
However, if you've chosen to protect your home with a TotalProtect warranty, the process when your furnace breaks is a very different story. As soon as you notice the problem, just make one call to our friendly customer care representatives and you'll be connected to a large network of pre-screened service technicians. One of these professionals will be sent to your house as soon as possible to diagnose the problem. Your deductible† should cover the costs of any repairs that need to be made or even a replacement unit. Once the technician has completed his work, you'll have peace of mind knowing that TotalProtect backs all repairs with a 180-day workmanship guarantee. If the job wasn't done right, we'll work to get it fixed as quickly as possible.
---
The information in this article is intended to provide guidance on the proper maintenance and care of systems and appliances in the home. Not all of the topics mentioned are covered by our home warranty or maintenance plans. Please review your home warranty contract carefully to understand your coverage.