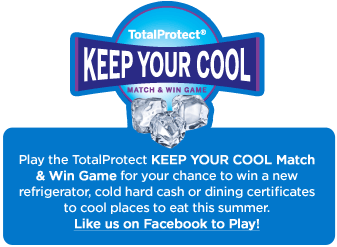 TotalProtect KEEP YOUR COOL Game
Frequently Asked Questions/Help
This game doesn't work on my phone/tablet/mobile device.
www.TotalProtectWin.com should enable you to play on any mobile device.
If that doesn't work, please visit www.TotalProtectWin.com on your computer.
How do I enter to win the refrigerator?
First, go to www.TotalProtectWin.com and play the Match & Win game. If you're one of our 6 daily instant winners, congratulations! Follow the steps to redeem your $25 Restaurant.com Certificate.
You can enter to win the refrigerator and other monthly prizes if you're not Match & Win instant winner. So, come back to play Match & Win as often as you like.
Can I skip the Match & Win Game, and just enter to win the refrigerator?
We'd love for you to take a quick moment to play the Match & Win game! You'll go directly to the refrigerator entry form if you're not a Match & Win instant winner. If you are lucky enough to win an instant prize, you can come back any time to play the Match & Win game again.
If you're having trouble accessing the entry form for the monthly refrigerator and cash drawings, please go to http://woobox.com/9agkee.
How do I know if I've won a refrigerator or cash monthly prize?
We'll contact you by email. Be sure to check your email during the first few days of June, July and August!
What kind of refrigerator or freezer can I win?
You can choose a refrigerator, freezer or other appliance from among preselected brands, valued up to $2,800 including delivery and installation.
Where can I read the rules?
Oficial Rules are posted at www.totalprotect.com/contests.
RESTAURANT.COM CERTIFICATE FAQ
How do I redeem my Restaurant.com Certificate online?
2. Enter your certificate code along with the text from the image on the screen and click "Redeem Certificate".
3. Enter your zip code and select the restaurant(s) of your choice.
4. Use your mobile device to present your dining certificate at the restaurant or bring a printed copy.
How can I contact

Restaurant.com Customer Service?
Phone: (800) 979-8985
Email: Questions@Restaurant.com
What restaurants take this gift card?
The first step to redeeming the gift card code is to go online to
http://Dine.Restaurant.com
and then follow the online instructions. The restaurants accept the restaurant-specific gift certificates printed from the redemption site.
There are over 18,000 restaurants nationwide as well as select online retailers that are listed on the site. You can search by zip code, state, cuisine, etc. Some of the online retailers include LobsterGram, Mrs. Fields and The Fruit Company.
Does the gift card expire?
° No. You may use the code whenever you choose to.
Are there any special terms when using a restaurant-specific gift certificate?
° The two main requirements associated with restaurant-specific certificates are:
i. One restaurant-specific certificate per restaurant, per party, per month and a minimum purchase may be required.
ii. The end-user must be sure to read all restaurant-specific restrictions for each restaurant or online merchant, as well as the standard terms and conditions.
Do I need to use the entire gift card at once?
° You can redeem your entire gift card at once or apply a portion of your credit at your first site visit and come back to the redemption site at any time to use your remaining credit. It's that easy! Please be sure to keep your gift card in a safe place as you will need it to redeem any remaining credit balance.
What is the Customer Service contact information for Restaurant.com?
° The toll-free phone number is 800.979.8985 and the email address is
Questions@Restaurant.com.
What happens if I lose my gift card with the code number on it?
° Please treat the gift card as if it is cash. It cannot be replaced if lost.