Spring Maintenance Tips (Infographic)
Go Beyond Cleaning to Smarter Home Maintenance
As the spring brings warmer weather, it is important to perform annual maintenance to undo the effects of a cold winter and to ensure that your home is prepared for the coming season. Before you break out the swimsuits and sunglasses, spend a little time checking on these crucial parts of your home.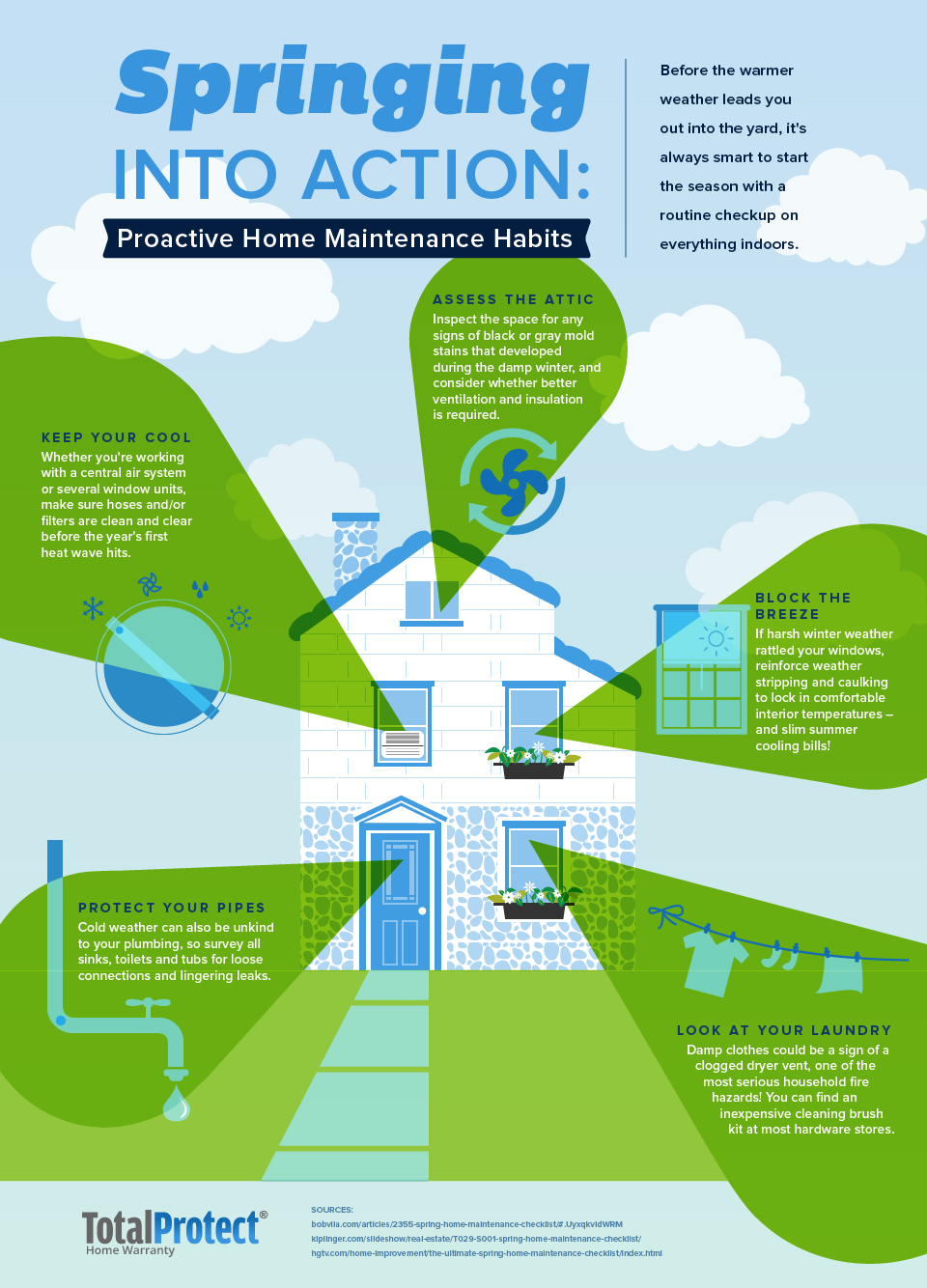 Assess the attic
More than any other part of your home, the attic acts as a buffer between the elements and the rest of your house. Insulation in the attic keeps temperature-controlled air inside your home, keeping your energy bills low, and roofing keeps condensation out. Check to ensure that your attic is free of mold, which may be a sign that moisture is finding its way in between your shingling. If you do find mold, remove it as soon as possible to keep it from spreading and add ventilation to prevent it from coming back. If your insulation is lacking, you may be able to substantially reduce your energy consumption by adding some yourself.
Keep your cool
Before the hot weather really hits, it is important to check on your air conditioning unit. Many homeowners choose to have a professional inspect their A/C unit every year in order to ensure that everything is in working order. If you choose to perform maintenance on your unit by yourself, ensure that it is turned off before cleaning hoses and filters. Some homeowners who have outdoor A/C units choose to plant trees that shade their A/C units to see additional energy savings and a longer appliance lifetime.
Block the breeze
If harsh winter weather had a noticeable effect on your windows, it is time to break out the weather stripping and caulk. Windows are one of the primary causes of energy loss in a home, so it is important to reduce this impact as much as possible in order to save on heating and cooling bills. Add weather stripping in any large cracks to prevent a draft, and seal small cracks with caulk to keep even more heat from escaping. If your windows are the old, single-pane variety, you can see even more energy savings by replacing them with a more modern variety.
Protect your pipes
Winter weather can be particularly harsh on a home's plumbing system. When the spring weather comes along, take some time to do a survey of all sinks, toilets, showers and bathtubs to check for any lingering leaks or loose connections. If you find any problems, you may be able to remedy them with a little tightening, or you may have to call a plumber. Either way, the faster you act, the less you will lose in wasted water. It also may benefit you to check for any pipes that may have been damaged by the cold winter weather in your basement.
Look at your laundry
After you do your next load of laundry, check to see if your clothes are still damp. If your dryer is performing worse than it was previously, the problem may be lint that has built up in your dryer vent - a serious cause of fire. This vent should be cleaned out every six months or so, but it rarely is. Clean the dryer vent from back to front in order to protect your home and family. Most hardware stores carry an inexpensive brush that will help you to clean it out easily.
There are a number of problems that large appliances and home systems can experience as a result of a cold winter. The good news is that homeowners who own a TotalProtect® Home Warranty will be covered against the unexpected expense of having to repair or replace one of these systems.
The information in this article is intended to provide guidance on the proper maintenance and care of systems and appliances in the home. Not all of the topics mentioned are covered by our home warranty or maintenance plans. Please review your home warranty contract carefully to understand your coverage.