What happens when your air conditioner breaks?
If there's one major home system that you don't want to break during the summer, it's your home's cooling system. Central air is a must-have for many homeowners, especially if you live in a particularly hot area of the country.
However, sometimes a mechanical problem will catch you off guard. So what should you do when your AC just isn't working the way it should? Here's what you can expect when you have a TotalProtect® Home Warranty.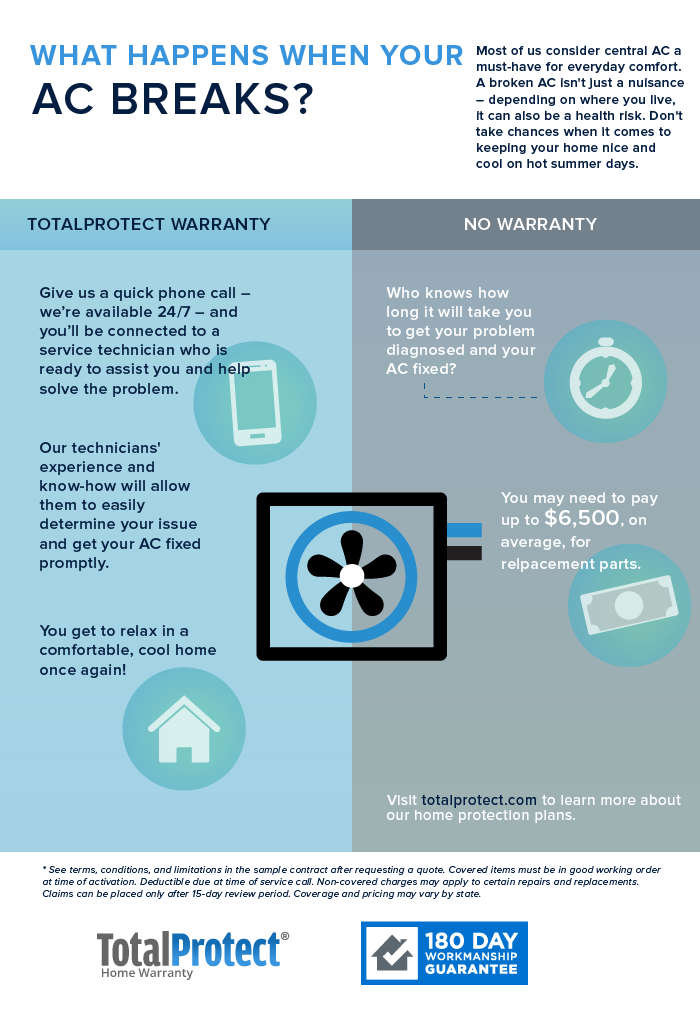 Here's a breakdown of what will happen if your AC breaks this summer. Here's a breakdown of what will happen if your AC breaks this summer.
Without a home warranty
No home warranty? You might soon regret that decision if your AC breaks during the summer. Without coverage from TotalProtect, you'll have to call a local repair technician to fix your cooling system. The summer is a particularly busy season for many repair companies, so who knows how long it will be before someone can inspect your unit, order the necessary parts and get the AC back up and running.
In addition to the lengthy wait, you'll also have to deal with the repair bills. The cost of parts and labor can total up to $6,500, so hopefully your emergency fund is well padded. If not, you may have to say goodbye to your family's summer vacation.
With TotalProtect coverage
The repair process is greatly simplified when your cooling system is covered by your TotalProtect warranty. When you notice that the system isn't working, file a claim by phone – customer care reps are available 24/7 – or online. We'll connect you with a pre-screened service technician in your area who will diagnose the problem.
Once our service partner has figured out what's wrong with your AC, the repairman will get your system fixed as soon as possible. You'll pay your set deductible, and before you know it, your family will be relaxing in a comfortable, cool environment once again. And since you saved money on repairs, you can go ahead and plan that summertime getaway that you've all been dreaming of. Doesn't that sound like a much better experience?
---
The information in this article is intended to provide guidance on the proper maintenance and care of systems and appliances in the home. Not all of the topics mentioned are covered by our home warranty or maintenance plans. Please review your home warranty contract carefully to understand your coverage.