What happens when your freezer breaks?
Just imagine: It's a hot summer afternoon and your kids have just come inside from playing in the yard. They've been active all day, so you want to reward them with a cool, delicious treat. So you go into the kitchen, open up the freezer and pull out a tub of their favorite ice cream. Except it's a drippy, sticky, melted mess! You look further only to find that most everything in your freezer is beginning to thaw or melt. Clearly, the appliance is broken. What do you do?
In instances like this, you'll be glad that you invested in a TotalProtect® Home Warranty. Here's what you can expect from the TotalProtect repair process, as opposed to when you have to fix the freezer on your own.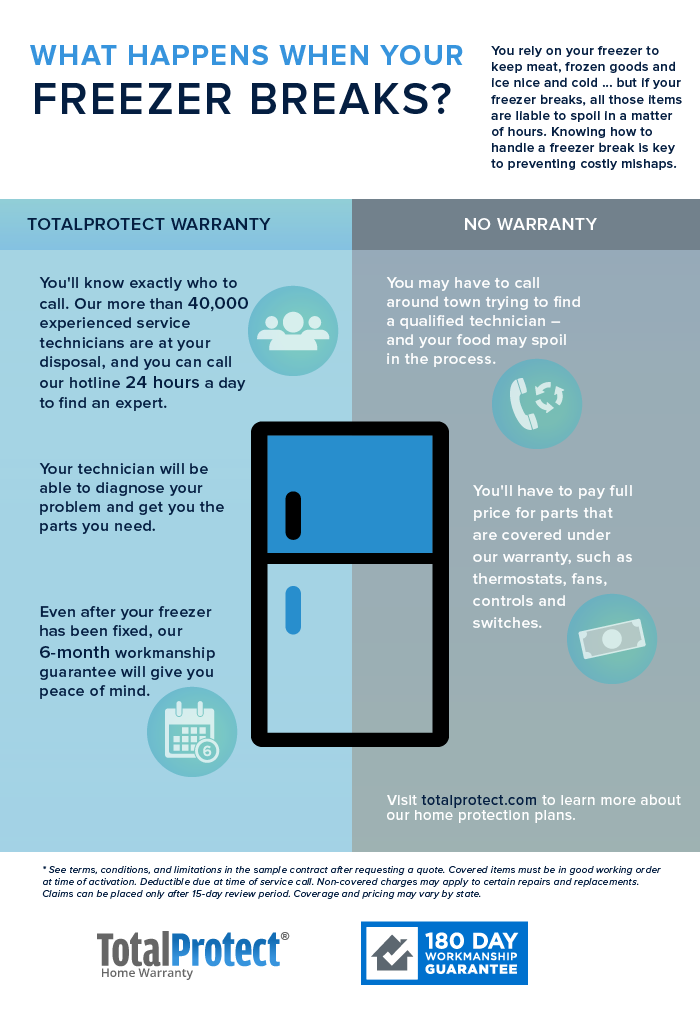 Here's what you can expect when your freezer breaks down.
Without a home warranty
When you skip the TotalProtect warranty, you'll have to find a repairman to fix your dying freezer. This likely means pulling out the phone book and calling different repair shops to find an available technician. As you dial the numbers of different companies, your perishables will probably spoil, so you'll end up tossing out all those meats, frozen desserts and more.
Once you find a repairman who can fix your freezer, you'll not only have to pay for his time, but you'll also end up covering the costs of any replacement parts. Don't be fooled – thermostats, fans, controls and switches aren't cheap! After your freezer is back up and running, your purse will probably feel quite a bit lighter, and you still need to replace all the food that went bad!
With TotalProtect
On the other hand, you'll know exactly who to call if you have a TotalProtect Home Warranty. Our customer care representatives are available 24 hours a day, seven days a week, so you know there will be someone to take your call. We'll put you in touch with one of our 40,000 pre-screened service partners so you can have an expert in your home as soon as possible. The technician will diagnose the problem with your freezer, get the parts you need and fix your appliance. You'll pay your set deductible, and voila! Ice cream treats for everyone!
Even after your freezer is back up and running, our technicians have a 180-day workmanship guarantee, so you can rest assured that the job was done right.
---
The information in this article is intended to provide guidance on the proper maintenance and care of systems and appliances in the home. Not all of the topics mentioned are covered by our home warranty or maintenance plans. Please review your home warranty contract carefully to understand your coverage.