Winter Home Maintenance (Infographic)
Guarding Against Winter's Worst with TotalProtect
The winter can bring with it numerous hazards to your home and to your appliances. Lucky for you, TotalProtect® Home Warranty is here to ensure that everything keeps running smoothly through the cold winter months. Here's a quick rundown on the most common claims that a home warranty may or may not cover.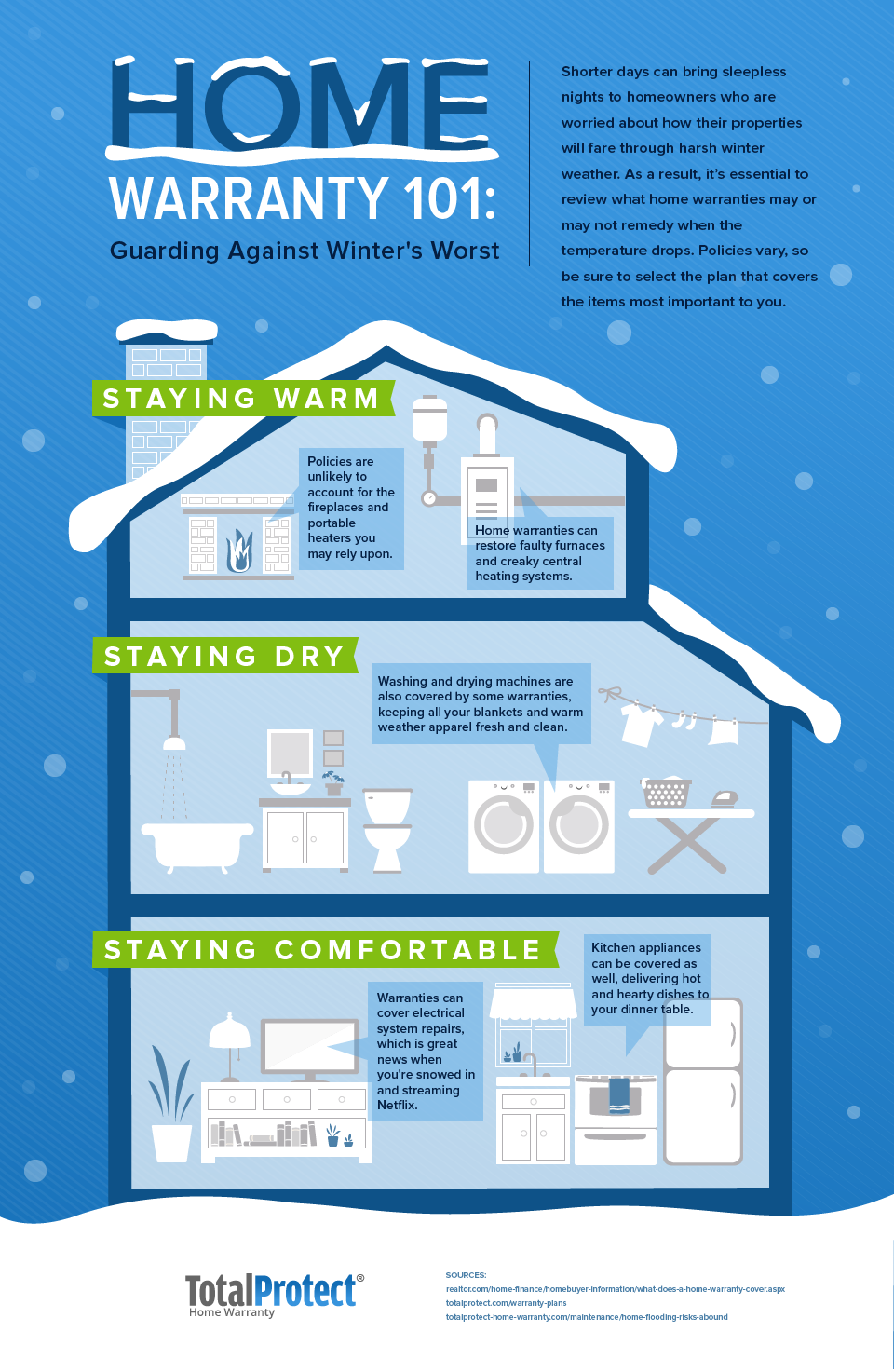 Staying warm
A broken heater can be a nightmare during a cold night. Unfortunately, cold nights are precisely when this kind of problem is the most likely to occur - when your appliance is working the hardest. The good news is that the TotalProtect Systems plan will cover both your heating and cooling systems in case either needs repairs or replacement. In the meantime, close all of the doors in your house to keep in as much warm air as possible and bundle up.
When a heating system breaks, most of us go running for our secondary heating systems, like a space heater or a fireplace. Just remember, most home warranties don't cover this kind of appliance.
Staying dry
Another important concern in the winter is keeping all of your blankets and winter gear clean and dry. A TotalProtect Appliance Plan will cover both your clothes washer and dryer for any potential breakdowns. When you're using your washer and dryer, remember not to overload either one - doing so will inevitably lead to a shorter lifetime for the appliance. With clothes dryers, it's especially important to check the lint filter between every load and to periodically clean out the vent in order to prevent the risk of a fire.
Staying comfortable
On those cold winter nights when the snow is falling outside and you're curled up in front of the TV with your family and a movie, you'll feel comforted to know that the TotalProtect Systems plan covers your electrical systems - so you won't have to go without Netflix for long in case something goes wrong.
Even your kitchen appliances - like your refrigerator and stove - can be covered under the TotalProtect Kitchen plan, so your family won't be forced to brave the elements just to get a bite to eat in case something goes wrong.
The information in this article is intended to provide guidance on the proper maintenance and care of systems and appliances in the home. Not all of the topics mentioned are covered by our home warranty or maintenance plans. Please review your home warranty contract carefully to understand your coverage.