Get ready for summer with optional pool coverage.
If you have a pool, chances are that friends and family flock to your house on hot summer days. After all, there's nothing more relaxing than lounging around in the water with the people you love.
However, a wrench can be thrown in your plans if something goes wrong with your pool or spa. Maybe the plumbing has a kink or the filter isn't working properly. Whatever, the problem is, it's going to be a hassle to fix, right? The answer depends on whether your TotalProtect® Home Warranty covers this important part of your home!
Here's what you can expect from the pool repair process with and without coverage from TotalProtect.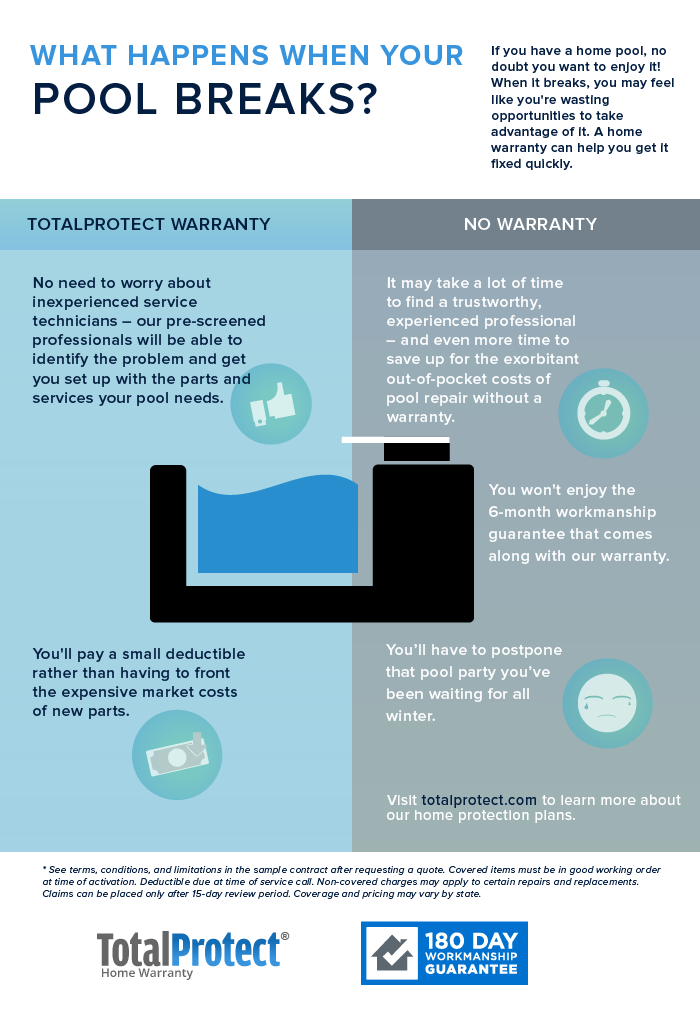 Here's what may happen if there's a mechanical problem with your pool. Here's what may happen if there's a mechanical problem with your pool.

Without a TotalProtect warranty
When you don't have a home warranty that covers repairs on your pool, you'll have to search through the phonebook or on the Internet to find a repair technician. However, you may end up with someone inexperienced if you choose to work with a company that you've never used before. If you want to find a reliable, trustworthy technician, you may want to call other friends who have pools, but this will only prolong the repair process.
Once you do find a repairman, you'll have to wait for the parts to be delivered, then pay high out-of-pocket costs for the repairs and labor. This can put a serious cramp in your summer party budget. You also won't have the benefit of a workmanship guarantee, like the one offered by TotalProtect service partners. So if the repairs aren't done correctly, it could translate to more expenses down the road.
When you have home warranty coverage
The repair process is streamlined when your pool is covered by a TotalProtect Home Warranty. Instead of frantically searching for a repairman, simply place a claim with our customer care representatives, and they'll refer you to a pre-screened technician in your area. Our service partner will identify the problem and work to get your pool back up and running. This means you won't have to postpone the pool party that you've been planning all winter.
What's even better is that you'll pay your set deductible, and that's it! You won't be responsible for the expensive replacement parts, so that money can go toward a summer vacation, a new car or whatever else your family needs. Sounds like a better way to handle repairs, doesn't it?
---
The information in this article is intended to provide guidance on the proper maintenance and care of systems and appliances in the home. Not all of the topics mentioned are covered by our home warranty or maintenance plans. Please review your home warranty contract carefully to understand your coverage.